Me Empiezo A Enamorar Live from NYC
Selines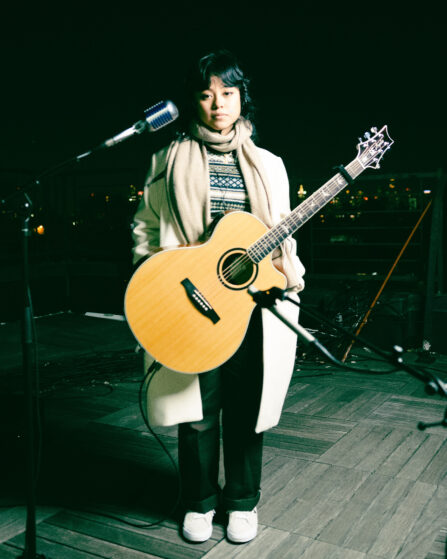 Follow
CONTACT & BOOKING
Selines (Sel-e-nes)
Born and raised in the Bronx, with her roots reaching back to Mexico, Selines Ruiz is a singer-songwriter and musician creating songs full of feelings. Selines was drawn to music at a very young age while seeing her cousins at guitar lessons. As a result, at 13 years old, she started noticing her talent and exploring it. She knew she wanted to be a musician. 
At 18 years old, Selines uses her music to channel her emotions in poetry verses, accompanied by subtle guitar chords and a delicate voice "full of feelings," as she describes her music. She admires other singer-songwriters like; Ed Maverick, Kevin Kaarl, and Natalia Lafourcade.  Classical Music, Boleros like Los Panchos, and Jazz are genres that help her to relax and focus— elements she relies upon in her creation process. She spends her free time writing poetry and crafting songs in her bedroom.
Selines is a promising artist that plays with her heart on the guitar. Her songs talk about love and heartbreak, balanced by a hopeful tune that makes the listener feel everything will be fine. As part of the new generation of Latin artist who chooses Spanish for art, Selines looks to connect with her Latin roots through her music. 
Currently, Selines is working on her EP to be released this Spring, which explores young love and the struggles that come with it. Tracks include a mix of traditional indie-folk melodies and upbeat guitar rhythms that warm up a broken heart. Selines promises to charm her fans with a fresh twist on indie folk with the passion Latinas are known for.
Nacida y criada en el Bronx, con raíces que se remontan a México, Selines Ruiz es una cantautora y cantante que crea canciones llenas de sentimientos. Selines se sintió atraída por la música a una edad muy temprana mientras veía a sus primos en clases de guitarra. Como resultado, a los 13 años, comenzó a notar su talento y a explorarlo. Sabía que quería ser cantante.
A sus 18 años, Selines utiliza su música para canalizar sus emociones en versos de poesía, acompañada de sutiles acordes de guitarra y una delicada voz "llena de sentimientos", como describe su música. Admira a otros cantautores como; Ed Maverick, Kevin Kaarl y Natalia Lafourcade. La música clásica, los boleros como Los Panchos y el jazz son géneros que la ayudan a relajarse y concentrarse, elementos en los que se basa en su proceso de creación. Pasa su tiempo libre escribiendo poesía y creando canciones en su dormitorio.
Selines es una artista prometedora que juega con el corazón en la guitarra. Sus canciones hablan de amor y desamor, balanceadas con una tonada esperanzadora que hace sentir al oyente que todo estará bien. Como parte de la nueva generación de artistas latinos que eligen el español para el arte, Selines busca conectarse con sus raíces latinas a través de su música.
Actualmente, Selines está trabajando en su EP que se lanzará esta primavera, que explora el amor joven y las luchas que lo acompañan. Las pistas incluyen una mezcla de melodías tradicionales de folk indie y ritmos de guitarra alegres que calientan un corazón roto. Selines promete encantar a sus fanáticos con un nuevo giro en el folk indie con la pasión por la que las latinas son conocidas.
bookings@vpsmusic.com